February 11: Day 0
Tonight Stephanie and I were moaning about how busy the next month and a half will be, and as we talked, we asked the tarot cards what they thought of the busy schedules. I was particularly keen to get their opinion on a new writing project I wanted to start even though I had no idea where to find the time. The cards cleared their collective throat, then said: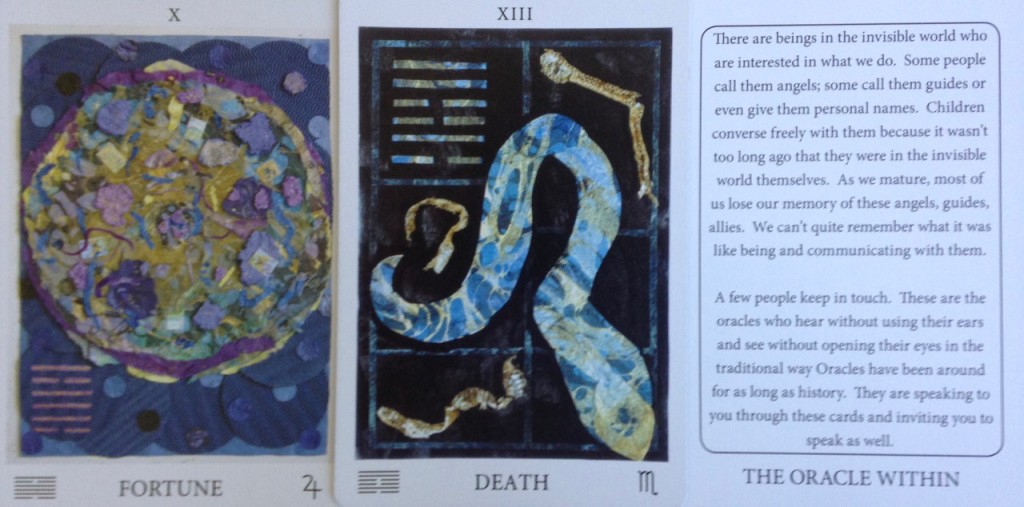 Talk about loud and clear! Fortune muses, "Yeah, this could be cool." Death chimes in, "But something's got to give, you have to let something go if you're going to make room for a new project. You've got to shed the outworn skin in order to grow." The Oracle Within: "Fill pages, fill pages, fill pages. See how I'm a full page? Do like that." Ok. Right. Yes. I get it. Thank you, cards!
So something had to give. I immediately thought of Facebook, and the time I spend every day scrolling through that endless distraction. I thought of the new journal I bought for the project. A scheme formed all at once: I'll give up Facebook for 40 days, and in the first hour of each of those days, I'll freewrite for the project in the new journal. After 40 days of writing, or a full journal, whichever comes first, I'll go back to Facebook. Lent started this week anyway, right? The project begins sort of around Lent, and ends sort of around Easter.
February 12: Day 1
This morning, chatting with Adrianna, I mentioned that today is my first day of a Facebook fast. She said, "Mm-hmm… wait, what?? Did you say Facebook fast? Oh my God, you just blew my mind!" I told her I'd woken up in the middle of the night and reached for my phone before remembering. She gasped and said, "What did you do??"
"I put the phone back down."
"And then what??"
"I just lay there."
She gave another gasp, shuddery and shivery, like at the end of a spooky story.
February 13: Day 2
Impulse: Reach for the phone.
Response: Pull your hand back.
February 14: Day 3
Wahh! I feel lost, lonely, cut off — but cut off from what? From voyeuristic eavesdropping, from the desperate hope for a puppy video.
It's like I hauled myself up out of a river — maybe the River of Time — exhausted, soaking wet, panting in a heap on the bank. And isn't time one of Facebook's main metaphors? Facebook generates a time-line for each "user"– meaning each addict, each of us junkies. A Facebook addiction feeds a larger addiction to the conceit of time. And I do mean "feeds." Facebook provides everyone their very own feed — but what's the food? Distraction, diversion, outrage. Am I not calling this a Facebook fast?
But still, wah!
February 15: Day 4
Facebook who? It's fading. Feels less like a fast and more like waking up.
February 16: Day 5
When I pick up my phone to call or text someone, my thumb still feels the muscle-impulse to press the Facebook icon. I only feel cut off anymore when other people in the room pore over their phones and I sit there, twiddling my idle thumbs and watching everyone else having their out-of-body experiences.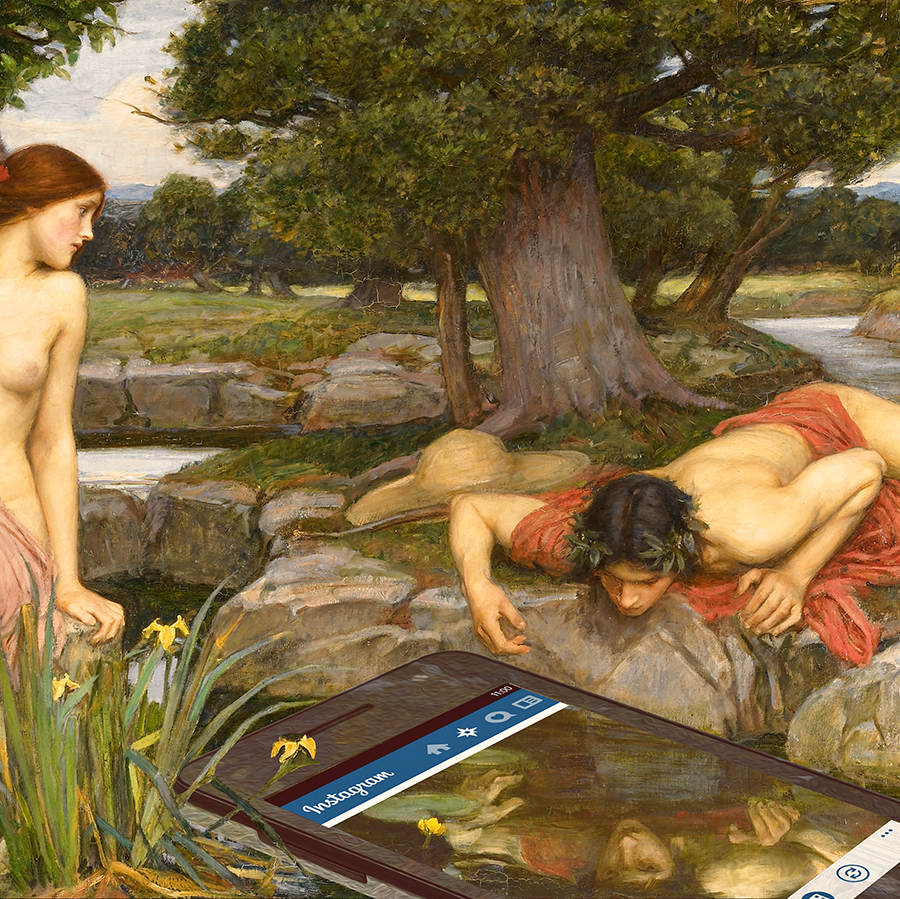 Because that's what it does: it pulls your life energy out of your body through your eyeballs and holds it hostage in the 2-D world of The Screen. There's a shrinking of awareness, a confining, a narrowing of the horizon down to the size of the responses made possible by whatever the interface allows — Like, Share, Type Something Here.
Facebook is a modern-day deity, a member of the tyrannical pantheon of social media gods and goddesses. Instagram, Twitter, Pinterest, all the billions of dating sites, they all feed (that word again) off the attention of their acolytes. They reward that attention by bestowing attention — the more active you are, the more people see your activity. The currency of the exchange is attention. If that's what we value, ok, that's what we value. Is that what we value?
Like all gods and tyrants, the media deities are best approached with alert awareness. They misbehave when their privileges go unchecked.
Like all gods and tyrants, they can be deposed.
March 5: Day 23
There's more space. The horizon extends further, in every one of those three-hundred-and-sixty degrees. Is Facebook a horizon blocker? It's certainly a drain. It siphons energy I could use for other purposes.
Instead of looking at Facebook in the middle of the night when I wake up, I've started texting myself thoughts, notes, ideas. In the morning I read them and think, "Where on earth did that come from?"
March 29: Day 47
One more day to go. Three empty pages left in the journal. They will fill tomorrow morning. I didn't write every day, but as of tomorrow, I'll have written for 40 of the last 48 days. Not that the project is done. It's a journal full of raw material. Soon it will be time to find out what it would like to become next.
March 30: Day 48
I broke the fast today. Facebook Breakfast, I guess. I knew I had to do it, in order to post an announcement for the Luna Review, but I kept putting it off. In the morning, I thought, "I'll wait until the afternoon." After lunch, I thought, "Just a few more minutes." Finally, in mid-afternoon, I opened a tab on my browser. I typed an f. Autofill took care of the rest of the URL. I posted the announcement I needed to, looked around for maybe five minutes, and closed the tab. It felt oddly boring after all this time. Anticlimactic.
March 31
Last night I woke up in the middle of the night, too sleepy to get up but too awake to sleep. I picked up my phone. 3:17 AM. I glanced at email then thought, "Hey, I'm allowed to look at Facebook again." My thumb was already moving toward the icon as the idea rolled around, but then I stopped. All at once, all in a rush, I realized what had really changed in the last month and a half.
In the past, unwelcome visitors like anxiety and hypochondria had often haunted my middle-of-the-night wake-ups. But since the Facebook fast, my nights had become quieter, more spacious, more peaceful. They had become the place where I text myself ideas whispered by the sparkling dark, the stillness where I can watch Michael, my bbf (beloved boyfriend), sleeping in the dim light like an archangel at rest. With my thumb hovering over the Facebook icon, I knew I was about to give up that magic. I was about to give my nights back to the low-level madness of the feed. I set the phone down.
The dark blue body of the Egyptian goddess Nut (pronounced noot) arches over the world, feet on one side of the horizon and hands on the other. Her skin is covered with stars. Then there are the Norse goddess Nott and the Greek goddess Nyx, both of whose names mean "night." Both dress in black, both ride across the starry night sky, drawn in a black chariot or on the back of a magnificent black horse. To imagine any of them is to imagine night as Night, a being whose quiet, dark company can refresh and restore. They dilate the pupils, widening the eyes the better to admit wonder, starlight, and shadows.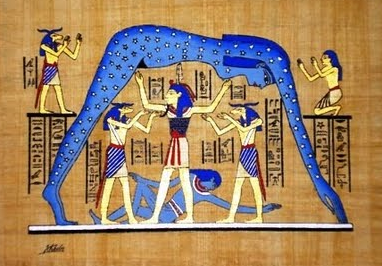 Night goddesses don't ask for much, but they do insist on visiting. Actually, we visit them, every evening when our zip code rolls away from the sun and out to face the reaches of space. Night holds the dark half of the planet in the palms of Her cupped hands, at all times. She's always there as we move into, through, and out of Her domain. When in Night, we're in all the way, and Night is all the way in us. It's Night outside, Night in the kitchen, Night in the bedroom. Night within blood vessels, in the synapses between neurons, inside every cell membrane in all of our bodies.
Impulse: Reach for the phone.
Response: Pull your hand back.
Then What: Bask. Relax.