When the Greek god Hephaestus learned that Aphrodite, his wife, was having an affair, he forged a magic, invisible net in his sacred smithy. He set the trap over his own marriage bed then pretended to leave town. Aphrodite and her lover Ares dove between the silken sheets. The net fell, held them fast, then Hephaestus burst back in with a seismic, "Gotcha!"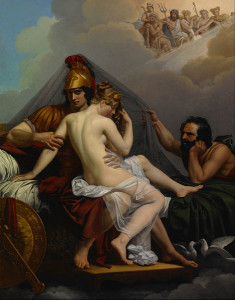 He bellowed for the rest of the Olympians to come witness this travesty. The goddesses declined, giving a self-righteous roll of their ravishing eyes. The gods, on the other hand, dropped everything to race over to Hephaestus's palace and laugh at the beautiful lovers caught in that glittering net.
You see where we're going. Angry hackers, crafty as Hephaestus, snared 36 million adultery accounts from a site called Ashley Madison, then bellowed for everyone to look at the evidence. They cheated the cheaters, on a scale grand enough to gratify the gods. 36 million accounts, from all over the world. 36 million human beings. 36 million stories. 36 million situations — cries for help, bids for a thrill, boredoms, yearnings, reachings-out in a way that seemed safe. Now there are 36 million reputations at stake. 36 million broken hearts. 36 million families.
What an archetypal mess.
But where there's an archetypal mess, there's an archetypal message, right? In this case I'm sure there are 36 million of them.
Aphrodite, the embodiment of Love, never wanted Hephaestus. He tricked her into marrying him through a separate ruse, to which she agreed because she thought it meant marriage to Ares. Hephastus wanted her for his own and no one else's, regardless of her desires. Love cannot abide such lovelessness. After the episode of the net, Aphrodite and Hephaestus broke up, leaving her and Ares free to see each other as much as they wish. Which they do to this day.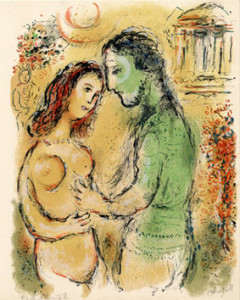 The myth gives us an image of one partner treating the other like a possession, demanding fidelity on principle alone. Love — aka Aphrodite — considers this preposterous. Love knows that love comes first. Love means first and foremost loving the beloved, second and second-most wanting the beloved. If Hephaestus loved Aphrodite, he would not have married her, much less expected fidelity, because he knew she wanted Ares. Ares, by the way, never makes petulant demands. He's too busy going watery in his magnificent knees every time he sniffs her skin, swooning in dizzy joy at her voice, staggering around in a dazed kind of gratitude that she exists at all.
The word "fidelity" comes from a Latin word for faith. And doesn't the massive manifestation of infidelity encoded in the Ashley Madison data create a massive loss of faith on the part of all those betrayed partners? Acting faithlessly destroys faith. But I'll venture a guess that some of that faith may have been placed in monogamy as a God-sanctioned prerequisite for love. I know I was trained to believe that, but according to Ginette Paris — an author, therapist, and one of my teachers — we have it precisely backward:
"It is quite a natural thing for satisfied lovers to be faithful to one another, without resentment…. This kind of fidelity cannot be promised, it can only exist and one notices it after the fact, a posteriori. When faithfulness is mixed up with control the confusion fogs the transparency of the relationship even more than unfaithfulness. It moves love into the territory of control and kills desire." — Ginette Paris, "Marriage, Intimacy and Freedom"
In other words, faithfulness, when it happens, arises from mutual love. This fidelity wells from the deepest springs: faith in each others' beauty, dreams, talents, being, humor, sorrow, struggles, triumphs. Each partner sees and believes in the other's true self. We're talking about soul fidelity — a holy, mystical depth of love that turns Aphrodite on like no amount of walking the beach or snuggling beside a roaring fire.
Ashley Madison profits from people seeking more than they have. Its users hunger for Love, and the site's marketing team crafts a message that seems to offer exactly that. The names even sound similar, with the initial short "a" and the two strong stresses: APH-ro-DI-te, ASH-ley-MAD-ison. Now those customers might find themselves in embarrassing or dangerous situations, but maybe some of them actually had an Aphroditic experience. Who knows.
The forces at play in the myth are still at play today. Call them by other names, castigate them with moral codes, they will not be denied. So it's comforting that Hephaestus moved on and dealt with his relationship issues. Eventually he married Aglaia, the Goddess of Glory and one of the three Graces. Theirs is a vital and, yes, faithful partnership. They have a bunch of beautiful daughters. Everyone agrees that no matter how painful it was, he had to cast that glittering net. Look at him now, building swing sets and jungle gyms, raising a new generation of goddesses. He never could have done that with Aphrodite. She approaches child rearing in a completely different way. Just ask Eros and Psyche.