Unarmed black men have been dying in the streets at the hands of cops who are supposed to protect them. This betrayal of justice, civil rights, and fundamental morality has been going on since forever, but now it feels like things might actually change, and I think it's in part because of how eloquent and effective so much of the protest response has been. These protests, coincidentally, have also been deeply resonant with the spirituality of the Yoruba people of West Africa, from whom many slaves in the Americas were descended. It all feels so interconnected, and the Yoruban ideas are so beautiful and inspiring that I've just got to talk about them. All the quotes in this post are from a scholar named Robert Farris Thompson, whose work I highly recommend.
So, here we go. The Yoruba might describe recent events as àshe in action. Àshe is difficult to translate into English, but I like Thompson's description of it as "spiritual command, the power-to-make-things-happen, God's own enabling light rendered accessible to men and women." In other words, àshe is the capacity to bring about change. It's active, energetic, and bright.
By itself, àshe is morally neutral. As I understand it, you could even say that the cops who killed Eric Garner and Michael Brown were exercising àshe. Protestors who lie down in public places are also exercising àshe, but theirs has to do with another spiritual value of the Yoruba as well, this one called itutu. Itutu is also difficult to translate, but it's a mystic kind of coolness, an unflappable calm, a "transcendental balance." To me it sounds a lot like wisdom. It's associated with the colors blue and green, so it's quieter than àshe, more contained, darker. It isn't active so much as it is reflective and receptive. The expression on this sculpture is a great example of what a person with itutu looks like: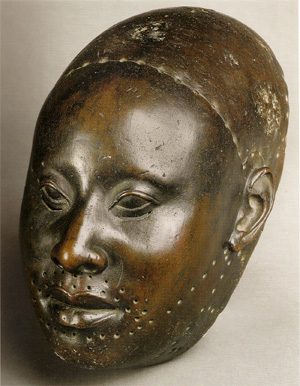 The Yoruba have rituals to restore coolness to situations that have grown too hot. The rituals often involve water and fresh herbs, and they seek to access "the divine source of the power to heal," or "the center from which all harmony comes." This divine source, this harmonious center, is, quite simply, love. One person can cool the heart of another through love, restoring her to serenity. A group can calm another group through love, and loving wisdom can even cool an entire nation. Yoruba coolness also links healing with good government.
See what I mean about these ideas being so beautiful? But wait, there's more. So far we have àshe, or the capacity to change the world, and we have itutu, or the mystic blue coolness of wisdom and love. Light and dark, hot and cold, active and receptive. Each of these dualities begs for balance. But now let's add one more ingredient: generosity. For the Yoruba, generosity is the highest form of morality, and good character combines coolness and gentle generosity. What happens when we put it all together? Thompson says:
To the degree that we live generously and discreetly, exhibiting grace under pressure, our appearance and our acts gradually assume virtual royal power. As we become noble, fully realizing the spark of creative goodness God endowed us with… we find the confidence to cope with all kinds of situations. This is àshe. This is character. This is mystic coolness.
This is also spiritual maturity. It's missing in a justice system that protects institutionalized homicide. It's missing in an economic system that widens the gap between rich and poor by under-taxing corporations and rich individuals, and by refusing to raise the minimum wage. This system promotes poverty, which promotes crime, which promotes racism and police brutality. It suffers from a lethal deficiency of itutu and generosity.
But change is stirring, right now. By lying down in public places, raising their arms in the air, and using the words "I Can't Breathe," protestors are mirroring back to the police, the nation, and the world what is going on. A mirror is receptive and reflective. It reports what's in front of it calmly and coolly. It has itutu. The action, or àshe, of these protests is guided by that wisdom, and as a result the protests send a profoundly powerful and moving message, and all of us watching the news fall in love with all those gorgeous protestors. This is not to say there is no rage involved. Far from it. Rage fuels the action, and wisdom channels that energy into spine-tingling, galvanizing communication.
Video cameras can also balance àshe and itutu. Like a mirror, a camera is calm and receptive, and it records action so that cool heads and hearts can make wise decisions about how to deal with it. Body cameras on cops might help, but not if it's cops who decide when to push the "record" button. I'm thinking more of smartphones and social media. Unlike any other time in history, basically all bystanders have the technology in hand to record high-quality evidence of police action and make it available to the world instantly. Also, by "cool heads and hearts," I mean independent prosecutors for police crime. Àshe can't be expected to regulate itself, and if it flares out of control, the restorative wisdom of itutu needs to come from an outside, unbiased perspective.
At this point àshe and itutu have worked their way into my imagination, and as I may have mentioned once or twice I have big feelings about the imagination. I consider it to be a conduit for change, the way wire carries electricity: first your ideas change, then you start acting on them and turning them into reality. In this case the electricity behind the words àshe and itutu is changing the way we respond to state-sanctioned murder. Now it's time to imagine that electricity making this nation a place where the Declaration of Independence is as true in practice as it is in spirit, and black men really do have full rights to Life, Liberty, and the pursuit of Happiness. Because YES #BlackLivesMatter, and YES this bullshit from the cops has got to stop.