A long, long time ago, a goddess-queen ruled a pantheon of gods and goddesses. This queen served as the divine sovereign over her land and her people. So when those people imagined rulership and divinity, they imagined a woman. Babies were born, crops grew, the moon waxed, waned, and waxed again for hundreds and then thousands of years. But one day a band of warlike invaders stormed the land, burning, killing, raping, taking, and bringing with them a stormy new king-god fond of throwing lightning around. Some say the invading king took the queen to wife by force. Others say she agreed to the marriage. No one claims the new god overthrew the goddess. She wielded too much power for that, and he knew he needed her to establish legitimacy. Maybe he found her fascinating, too. Challenging. But no one says they fell in love. King Zeus and Queen Hera simply assumed their thrones side by side, high in the thin, chilly air of Mount Olympus.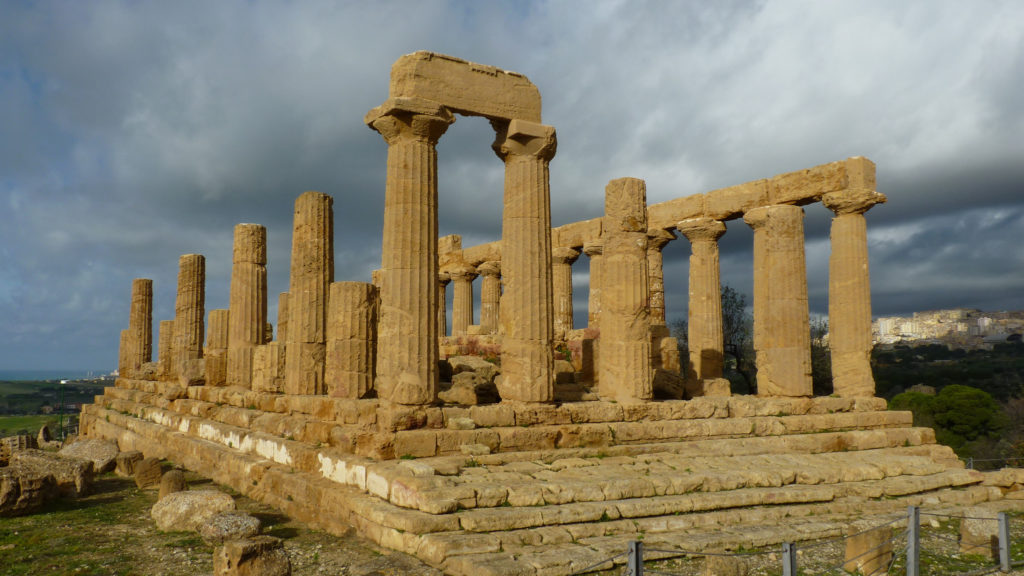 For the ancient Greeks, gods and goddesses didn't just represent the energies of the observable world; they were those energies. Earth, ocean, sun, moon, hearth, love, law, marriage–the stories of these forces clashing, contending, consorting, and creating became what we now call a mythology. Because these figures are personified beings, their stories also illustrate personality dynamics. To the extent that these powers remain active today, Greek myth continues to open windows, onto worlds within and worlds outside. Myth taps into timelessness.
Hera's name most likely comes from the same root as the word "hero." She illustrates the aspect of experience whose inherent nature is rulership–a natural leader with ambition and intelligence who happens to be a woman. But soon after her marriage, Hera's husband began chasing and raping other women all over the land. He arrogated to himself a despotic, entitled, physical dominion over her and all his subjects. In his view, a woman's most private physical places–metaphorically her inner self, her soul–exist only to be seized by men. Naturally Hera became guarded, defensive. Not long after all this, patriarchal monotheism rose in the Hebrew and then Christian traditions and tried to depose and kill her outright. Christianity's attacks grew particularly violent, with witch hunts, torture chambers, and burnings at stakes.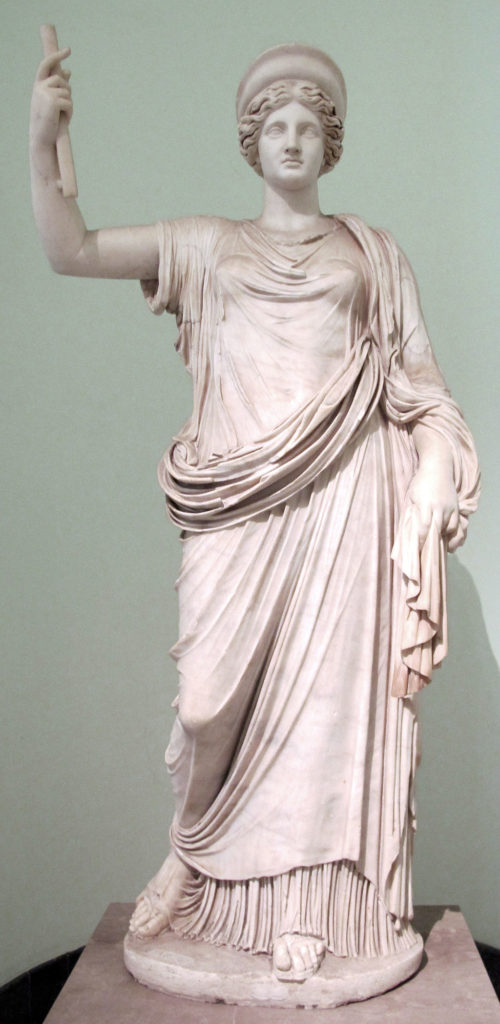 Hera embodies the aspect of experience that is a strong female subjugated, betrayed, and terrorized. She's the aspect of experience with awareness of its own displacement and mistreatment. The aspect that has no choice but to go into hiding. The aspect that remembers her throne. The aspect that bides her time.
Hillary Rodham started out as an independent young woman–sharp, successful and full of zest, a leader at her women's college. After law school, she married and accepted a role as a political wife, first to a governor, then to a president. But when she tried to take her place as a partner to her powerful husband, other politicians lost all composure, especially the conservative Christians. They fumed and foamed about a woman's place and the inherent evil of healthcare for all. They whipped up their age-old witch hunt, this time using lies and conspiracy theories as pitchforks and torches. Meanwhile, Hillary's husband proved powerless to resist his urge for nymphs and interns. Hera must have felt similar with Zeus as a husband: the public shame, the helpless rage, the isolation and loneliness, the societal judgment that she was somehow to blame for failing to make her man behave himself.
Hillary stayed married, but she distanced herself from her husband and started her own political career, as senator, as secretary of state. Now she finds herself facing off against another powerful man, this one even more like Zeus than her husband was: a thunderer who blusters about law and order, an assaulter of women, a self-promoter inordinately fond of marble palaces. Hillary's opponent epitomizes the forces that have arrayed themselves against Hera through the ages.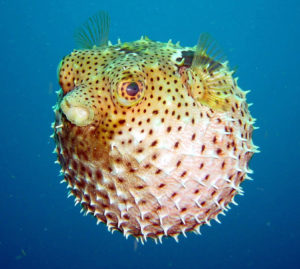 It's tempting to dismiss Donald Trump as the archetype of the pufferfish–inflated, cold-blooded, highly toxic even in small doses–but actually he draws his power from the darkest depths of the Zeus archetype. Listen to these lines from the "Homeric Hymn to Zeus," written sometime around 600 BCE:
Zeus
who is the best
god
and the greatest
is who
I will sing…
son of
Cronus
who sees far
you're the most
famous
of all
you're the greatest
The best, the greatest, the most famous… It sounds exactly like recent political rallies. But the best, greatest, most famous what? Nothing. There is no substance there, not in the poem and not on reality tv. Donald and other Zeuses bring no skills to the table, only their hunger for glory, lust to dominate, bottomless greed for power and wealth. They have no access to wisdom or restraint. They rage. They hurl thunderbolts, verbal or otherwise. They serve themselves. This is why democracy rose, because everyone recognized the perils of kingship. And where did democracy first show up? Ancient Greece, in the time of Zeus.
It's as though Hera stands behind Hillary and Zeus stands behind Donald. These two forces face off yet again. Hera is grim, determined, knowing what she's up against. She knows the hatred of her opponents. She knows the bizarrely higher standard she's held to than are the bozos around her. But she has prepared. She studied the law. She practiced the crafts of planning, organizing, governing. Her feet are planted for battle, but she also glows, newly beautiful in her maturity.
Myth changed with the arrival of Zeus. It changed with the rise of Christianity, the Enlightenment, the Internet. Myth taps into timelessness, but it also rides the currents of change. It shifts and shimmies to reflect what endures and what evolves.
When a goddess is wounded and closes her heart, that's when blight happens. But when a goddess is glad and opens her heart, well, prepare for flourishing, blooming, blossoming. The psychological sequence goes: see her, love her, be loved in return.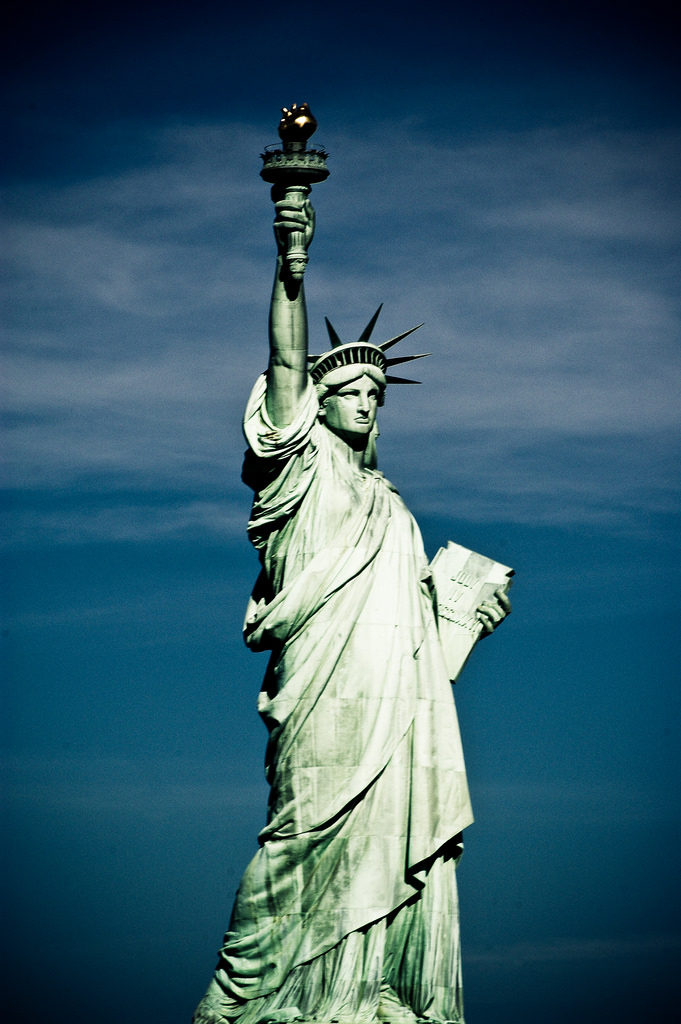 Not that Hillary Clinton is a goddess. She is a mortal person with flaws, wounds, and complexities. But the image of a Hillary Clinton presidency is an archetypal upset, a tectonic shift in what American democracy believes to be possible. It means that thinking of leadership can mean thinking of a woman. Try saying it: Madam President. Now open up to the smallest bit of affection for her, the tiniest dram of liking, the same way you can like a man who has flaws, wounds, and complexities. Feel that ripple in the air at your back? That's Hera standing straighter, stronger, more sure of herself, with a glint in her eye from the light held aloft by her young friend in the New York harbor.