When I moved to Santa Barbara, one of my friends asked me if I'd like to work as a guide for her events company, shepherding groups of visitors around to various destinations. A guide? I thought. For travelers? Something gleamed at the corner of my eye, like a golden, winged sandal whizzing past. My friend continued: I'd have to beguile the visitors with stories about the area, and I'd have my phone pretty much grafted onto my hand to receive and relay last-minute changes to itineraries. I couldn't help but think of Hermes — the guide of souls, patron of travelers, the speedy, talkative (text-)messenger of the gods. How about it? he seemed to whisper. I said, "Absolutely."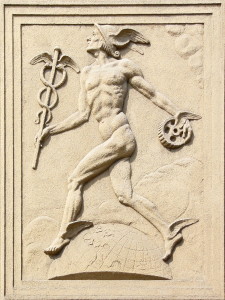 So I've been playing mother duck, leading visiting executives around. Hermes relishes hanging out with all that money. He's the god of commerce and thieves, after all, and his sandals and caduceus are made of gold. I love how the two serpents climb that winged wand, moving together, moving apart, moving together, moving apart, always in perfect synchrony. They rise in tandem as though lifting each other. Serpents symbolize fear, but also wisdom and rebirth. In the caduceus, they transcend their limitations; they rise up off the ground toward the golden wings. An image of evolution, they even look like the double helix of DNA. But they climb the magic wand of a god, so they also suggest the dazzling surprise of psychological and spiritual growth. Soul evolution. And their image has a unique form of gender fluidity — phallic, but also sinuous and circular. They side-slip all attempts to label them as masculine or feminine. Their relationship is a relationship of two, that's all the image says.
Anyway, one night last week, after I guided a board of directors during the day, another friend asked me to go with her to get her first tattoo. I picked her up and drove her to an ink den straight out of central casting: everything in black and red, unshaven but heavily tattooed personnel, a gluey residue coating the binders of clip art. The tattooist scheduled to draw on my friend hadn't shown up because someone else who worked there died that day. They assigned another tattooist to my friend, a gentleman of maybe 60 wearing an Iron Maiden t-shirt and coke-bottle glasses with thick black rims. He injected ink (subcutaneously) into my friend's foot (the lowest part of her body) until a dragon appeared there (a creature that inhabits caves and underground lairs). Down, down, down I went, from the luxurious realm of CEOs, into the earthen underworld. Meanwhile three other tattooists sat in a circle talking about their dead colleague, tallying up the many people they knew or knew of who died from combining Xanax and alcohol. Beside them lay a giant black dog, part Great Dane, part elephant, all black, all the way. I almost called him Cerberus.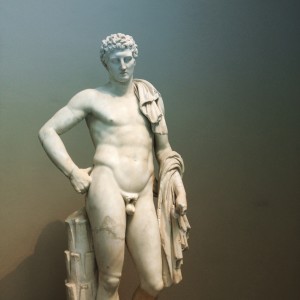 Hermes, by the way, is the only Olympian authorized to visit the underworld. He guides souls around the earthly plane, sure, but more importantly he leads them to the kingdom of Persephone and Hades when it's time to make that journey.
Once, maybe a year ago, I attended a writing group where we did a free-writing exercise about a childhood memory. I wrote about my old imaginary friends, and one of the other participants, a woman in her late sixties or early seventies, said, "That reminds me of my daughter's imaginary friend, who only showed up when she was seven years old and in the hospital. She said his name was Hermy, and he came over to her room from the cemetery across the street." I said, "Wow, that makes me think of the Greek god Hermes, the guide of souls." The woman blinked at me, startled.
After the meeting she chased me down outside and spoke urgently, in an undertone: "Hermy stayed with her all the way until the end. She died the next year. She was eight." She insisted that her daughter had no access to Greek mythology, would have had no possible way of reading or hearing about it.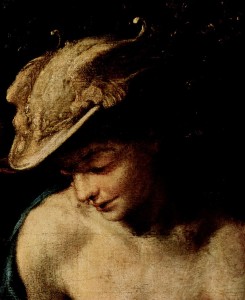 Coincidence? If so, it's a coincidence drenched with meaning. Maybe there's a logical, linear, cause-and-effect explanation for a little girl's imagination providing her with a friend and helper named Hermy, from a graveyard, at that time in her short life, and for her mother finding out decades later that the image of this friend has resonance far beyond her family's experience. Meanwhile the woman wanted to know everything everything everything about Hermes. I told her what little I knew at the time, but it felt hopelessly inadequate. I couldn't tell her what she wanted to hear: that her daughter was all right, that the girl lived on, that Hermy/Hermes had somehow made everything ok.
Now I know that, in addition to moving with ease to and from the underworld, Hermes also guides the way to growth, change, relationship building. He's funny and fun, he loves tricks, and, being the messenger of the gods, he carries divine meaning and inspiration. He offers the gift of seeing the world with sparkle, with fresh eyes. To him, souls are as equal as they are unique. He accompanies CEOs around in their private jets, tattoo artists on the way to funerals, children across the great divide, perhaps entertaining them along the way with magic tricks. If I could talk to that woman today, I would tell her that I can't think of a better friend for a little girl stuck in a hospital room, nor any better traveling companion.